Year 2
Welcome to the Year 2 page 2021-2022. Year 2 consists of two classes:
Pear and Willow.
Pear Class will be taught by Mrs Rossiter, with Mrs Csikos and Mrs Hodson as the class teaching assistants.
Willow Class will be taught by Miss Thompson, with Ms Warren and
Mrs Anthony as the class teaching assistants.
Please keep your eyes on this page as we share aspects of your child's learning and experiences throughout the year, as well as letters and updates relevant to Year 2.
We are very excited to see you after the summer break! We can't wait to share lots of fantastic learning with you!
From Mrs Rossiter and Miss Thompson :)
Letters
Curriculum Overviews
Homework
Spellings
A spelling sheet will be sent home every few weeks for your child to practise. We would like them to practise reading, spelling and writing them neatly in pencil.
The children will come home with a paper copy and they will also be uploaded her if you click on the link below.
Thank you for your continued support with their learning.
Reading
When will my child get a reading book?
Due to the new scheme being introduced and the effects, that CV-19 may have had on your child/ren reading all children will be re-assessed at the beginning of the Autumn term according to their phonics ability. This will then determine that your child receives a book matched closely to their phonics ability and provides appropriate challenge.
As a result, children who may previously have moved on to 'free reading' books may arrive home this academic year with phonics phase reading books. Please be assured that this is not a backwards step for your child(ren) – our new books offer more challenge than their predecessors and the additional reading scheme books will further strengthen pupils' progress and understanding.
How often will my child's book be changed?
Your child/ren will bring home a book and this will be changed once a week. This is to ensure that your child develops fluency (Fluency is the link between recognizing words and understanding them so that readers can make the link between words, sounds, and meaning more quickly), becomes confident at decoding skills, as well as an understanding about what they are reading by being able to comprehend. As we want to promote reading for enjoyment, your child/ren will now be able to choose their own book from a large selection of fiction and non – fiction books aimed at their specific phonics level. By picking their own book, we hope that they become excited about reading and want to share with you their chosen book. We will continue to assess your child/ren at the end of each half term and the appropriate phase of book will be adjusted accordingly.
How often should I hear my child read their reading book?
As a whole school, we are planning to raise the profile of pupils reading regularly at home – "a little and often approach". We encourage your child to read their book at least five times each week and ask that you sign their reading record each time. A new "Letters and Sounds" phonics reading book will be sent home once their class teacher is satisfied that they are ready to move on.
At the beginning of the week, your child/ren may read their book by sounding out and blending (this is perfectly normal as your child is learning to decode). By reading every day, this will help to build fluency and enable your child/ren to read the book more fluently and with less sounding out. Once they have decoded the words and can read their book fluently, ask your child/ren questions about the book to develop their comprehension skills. Additionally encourage them to ask you if they do not understand a word or ask them what a particular word means. This will help to put the story in context and your child/ren can fully understand what they have read.
READING! READING! READING!
Please continue to read as much as you can!
Here is a link to the Big Cat Reading books.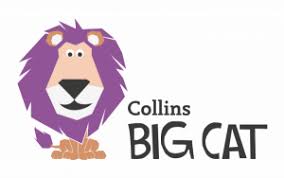 Click on the picture above to take you to the website.
Click on the Teacher icon
username: parents@harpercollins.co.uk
password: Parents20!
Recently in Year 2
HT5
Reading Buddies
This week we introduced reading buddies between Elm class and Willow class. The Year 5 children heard the Year 2 children read and then asked them comprehension questions about their story; who was the main character, what happened in that part, what do you think will happen next? It was lovely to see year groups mixing in a positive way, and all involved had a lovely time!
HT4
Practical Maths
We love a practical lesson in Year 2! For the start of our Fractions topic we explored the difference between the equal and unequal parts through different activities.
Aboriginal Art
The artists we are studying this term create traditional Aboriginal Dream Time paintings. We have loved exploring the paintings and even practised different ways of making the famous dot paintings. This week we did some rubbings with lego and coloured pencils, stamped lego pieces in paint and used a cotton bud to make even dots.
World Book Day 2022
This year marked the 25th anniversary of World Book Day! The whole school planned activities based on the book One World, Many Colours. Our topic for this term is A Journey to Australia so it was just fitting to look at the Australia page in the book! We created a collaborate piece of art in our own classes using the Australia page for inspiration with colours. We even drew ourselves in the creation so it was like we were actually in Australia!
Look at our amazing costumes too!
Book Swap
Miss Hale planned a fantastic book swap, which meant we could take a pre-loved book we owned and swap it for something we had never read before.
HT3
Internet Safety Day 2022
Year 2 Internet Safety Tips 2022

All Aboard the SS Great Britain!
In History we are learning all about the famous inventor Isambard Kingdom Brunel and his fantastic inventions, such as the SS Great Britain. We have been learning about what life was like on the SS Great Britain and how it was made. Here you can see us learning more about the accommodation on board the ship. We will use this information to help us write diary entries, as if we were a traveler on a journey from the UK to Melbourne, Australia.
The Steerage Class had cramped tables with limited resources!
The First Class had more resources, such as colouring pencils, and a lot more space to work.
Arrays in Maths
We have loved using practical methods to help us with our multiplication this term. Here we are working in groups to create arrays using cubes and counters.
PCSO Devon Rudden - E-Safety Talk
Year 2 had the pleasure of welcoming PCSO Devon Rudden into our classrooms to talk about how we can be safe on the internet. We learnt not to share any personal information and if we are worried to tell an adult. We even got to have a look inside his police car! We had very enjoyable afternoon and loved every second of it!
Making a Fruit Salad - DT
This term we have loved our Instructions topic for English & DT! We started off by exploring different healthy snacks, some of us tried healthy foods we had never tried before such as watermelon and hummus! Then we designed our own fruit salads choosing 4 different fruits before using our new cutting skills to make our own salad. In English we have used our practical experience to write our very own recipe book for 'How to Make A Fruit Salad'.
Step 1: Trying Healthy Snacks
Step 2: Practising Knife Skills & Designing Our Fruit Salad
Step 3: Making Our Fruit Salad
HT1 & 2
HT2

Science
We LOVED our Science unit on how to be a good scientist. We conducted many experiments, but here are a couple of our favourites...
1. Does washing our hands stop the spread of germs?
We designed an experiment using bread to see if the amount of germs on the bread was different before or after we washed our hands.
2. What happens when you put sugar sweets in water?
Our conclusion was that the sugar dissolved when it touched the water, making very pretty patterns!
Children in Need!
We dressed up in spots to help raise money for Children in Need.
Andy Goldsworthy Art
In Art we have been studying the artist, Andy Goldsworthy. He is famous for using natural resources to create concentric circles and repetitive shapes. We spent a lot of time planning our own art based on the work of Andy Goldsworthy, including collecting our own natural resources.
HT1