Year 5
Welcome to the Year 5 page 2021-2022. Year 5 consists of two classes:
Elm and Sycamore.
Elm Class is taught by Miss Berry, with Mrs Clark and Miss Hill as the class teaching assistants.
Sycamore is taught by Miss Thompson, with Mrs Costick as the class teaching assistant.
Please keep your eyes on this page as we share aspects of your child's learning and experiences throughout the year, as well as letters and updates relevant to Year 5.
Letters
Curriculum Overviews
Homework
Content coming soon.
Recently in Year 5
DT


In design technology, Year 5 have been making tote bags. They have researched their sustainability before learning the running stich and using Miss Berry's sewing machine! They each designed what the front of their bag looked like to make them unique.

English


In English Year 5 have been learning the poem 'The Highwayman'. The children have had parts of the poem to learn as their homework so they were able to recite and act out in the poem together.



Year 5 Netball


In Year 5 we have been learning new skills and rules to play the game Netball. We have entered into the local league and have really enjoyed getting back into competitive sport. We have also had the opportunity to play a friendly Teachers vs Students match at lunch time which was great fun. We loved it so much, we are hopefully going to make this a weekly occurrence!
ong>Year 5 have been lucky enough to participate in the Mini Police program lead by our local PCSO. They have been through a rigorous application process and will attend weekly sessions to improve our school community.

Science - outdoor learning

We have used our forest school area to support our learning in Science. We used the fire to begin our unit on materials. We looked at how heating and cooling some materials changed their properties.
Science
We have carried out some friction experiments using Newton meters. We investigated different surfaces and measured our results using them.
Geography
We are going to be learning about mountains. We are using atlases to help us learn about and locate different countries, counties and continents.
Maths
We have revised what we know about area and perimeter, taking our learning outside when it was fine. We found out we needed a little practice with measuring too.
English
We have been sharing our role play ideas. We particularly enjoyed Theseus and Minotaur.
History
As a celebration of our efforts in our Ancient Greeks learning, we came to school dressed as ancient Greek citizens. The sun shone upon us and we indulged in some Greek foods and shared our role play of Ancient Greek Myths.
Design Technology
We have researched, designed and made our own Greek flatbreads. We cooked them on the fire in our forest school area and served them up with our delicious prepared salads and sauces.
Christmas Performances
Elm
Sycamore

/i/video/Christmas_21/Elm_Santa_Clause_is_Coming_to_Town.mp4

/i/video/Christmas_21/Sycamore.mp4
Festive DT – Peppermint Cream Christmas Gifts
We used the skills of mixing flavours and colours to create our individual style of sweet treat. We had to roll the icing out flat and kneed the colours and flavours into the icing. We chose what shapes to cut our sweets into and then packaged them using a choice of stickers or labels.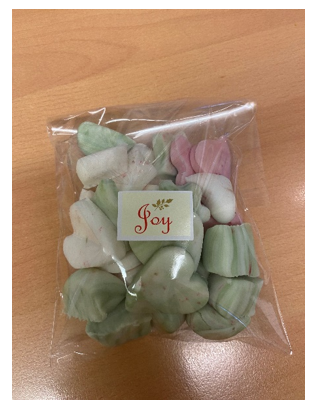 Science
We had a visit from 'Space Odyssey' to begin our learning on Earth and Space.
Maths

We have been focusing a lot of our Maths learning on number- especially our understanding of place value.