W.I.S.H Group

Wellbeing in School Happiness
About Us
We are very pleased to be introducing you to our Westover Green W.I.S.H Group!
Our aim is to bring the Westover Community together and promote the wellbeing and happiness of the children- which is why W.I.S.H stands for Wellbeing In School Happiness.
Whilst fundraising for resources and enrichment experiences is a considerable target for us, we are very much about giving back and putting the children at the forefront of everything we do.
Letters and Notices
Volunteering:
In the same way that the school welcomes parent and community volunteers to support pupils with their learning, we would be delighted to hear from members of the Westover community who would be interested in working alongside us. If you would like register an interest in becoming a volunteer for the school or the W.I.S.H Group, please contact the school office to discuss this. A standard safeguarding clearance called a DBS check and induction will be required.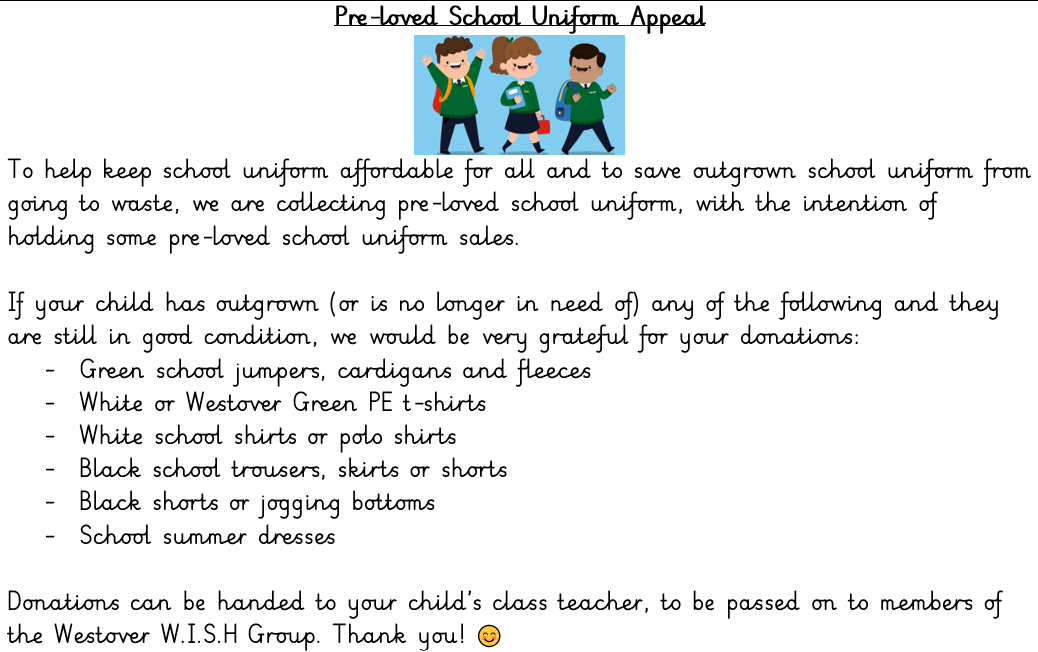 W.I.S.H Events
Fall Ball 2022
Fall Ball 2022
The leaves have been falling and the dark nights drawing in, but as Autumn moves closer to Winter, Westover Green dug out their best outfits, dusted off their dance moves and tuned up their air guitars for the Fall Ball!
It was fantastic to see the return of school discos at Westover Green. Children, staff and governors were buzzing in the electrifying atmosphere, energized by the tunes of DJ Bestwick!
The WISH group would like to thank everyone who gave their time and support to make this possible for the children. We would also like to thank the children for making it an absolute pleasure to attend.